Read Time:
4 Minute, 5 Second
In this Wild Portals Megaways review, you will understand how to play the game. Players! Prepare for some oontz-oontz in Big Time Gaming's modernly funky Wild Portals Megaways.
In some of its experimentally minded slots, such as Star Clusters or Cyberslot Megaclusters, BTG has occasionally taken players back to the future, conceptually speaking.
While Wild Portals Megaways has some thematic similarities to previous games, its features are more in line with those found in BTG's legendary back catalog.
However, Wild Portals Megaways is its own beast, so take a look if you're ready to hurl some major shapes.
Wild Portals Megaways Review: A New Game
If Spock, Kirk, and the rest of the crew hosted a rave on the Starship Enterprise's bridge, it would most likely resemble Wild Portals Megaways.
In such a case, who would be the DJ? Scotty was an expert engineer, but there's a sneaking notion the funk would come from Chekov, Uhura, or Sulu. In any case, Wild Portals Megaways brings its own funk to the party with a powerful hard-house song and a lavish light show.
However, we aren't completely sold on the visuals, as the game has a look that is both new and unchallenging at the same time.
1. RTP and Volatility
Players can choose from wagers ranging from 20 p/c to £/€20 each spin in Wild Portals Megaways on any device. Mathematically, the game is as good as it gets from this team, with a single RTP value of 96.58% in a highly volatile way.
In addition, the Megaways grid is quite easy, with 2 to 7 symbols on each of the game's 6 reels, for a total of 117,649 ways to win. Overall, Wild Portals Megaways may appear futuristic in some ways, but it is played on a popular game panel.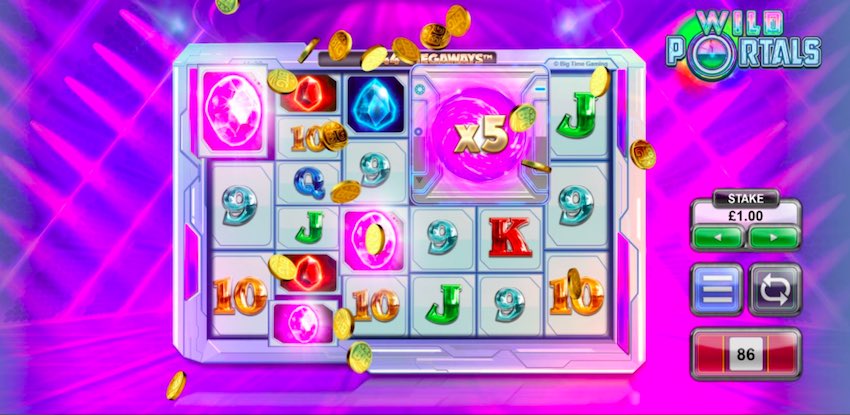 2. Payline
The lower end of the paytable is made up of gleaming jewel-like card royals 9-A, while the higher end is made up of green, blue, red, and purple gems.
By landing six low-paying card symbols across the reels pays 0.3-0.5x the stake, up to 0.6-10x for six premium symbols. The game's other two symbols are wilds (called Wild Portals), which can substitute for any other pay symbol, and gold scatters, which start the bonus game.
3. Slot Features
After any wins have been paid, Wild Portal symbols appear on reels 2 to 5, and they expand to show a low-value symbol. The Wild Portal Multiplier is increased by +1 for each instance of this revealed symbol type removed from the reels.
In the places left by the removed symbols, new symbols appear, and the Wild Portal may disclose a different sign. This feature will be repeated until there are no more instances of the exposed symbol type. Any winnings achieved through the use of the Wild Portal are multiplied by the value of the Wild Portal.
Free Spins
When at least three scatter symbols appear on the screen, you will be granted 8 free spins, plus two additional spins for every additional scatter in view.
During the bonus round, the Wild Portal is guaranteed to appear on every free spin, and it is carried over if it was present on the triggering spin (including the multiplier value, of course).
In addition, the Wild Portal keeps its multiplier between free spins, resetting only when the bonus ends. If you get 3 scatters, you'll get +2 more scatters, plus 2 more for each scatter you see after that.
Win Exchange
Because simply triggering free spins can be difficult, BTG has introduced their Win Exchange option to help speed up the process.
The way it works is that if a player wins 75 times their stake or more, they can exchange 75 times their bet for 8 free spins. You can also risk your winnings on a red and green segmented wheel for a chance at winning 8 free spins if you win between 25 and 75 times your bet.
Final Review
Hopefully you're patient, since there are rewards in Wild Portals Megaways for those who are willing to put in a little more effort. You might have to settle in for a long grind to get to the nice sections, as we've seen with a few BTG games we've lately reviewed, Apollo Pays Megaways being a classic example.
Because BTG removed the cascading feature that generally goes hand in hand with Megaways, the general absence of activity may be more noticeable. Strange in a way, because the Wild Portal action, like a cascade feature, removes symbols and replaces them with new ones. Finally, that is Wild Portals Megaways review from situs judi slot online, enjoy the game.
Read More: PokerGo Events: Host StormX Poker with $5,000 Buy-In